Journey to Panama (Part 1)
So often I've been blessed with people always willing to support me or not facing obstacles like others do when I pursue my passion in this dance or in life in general. Sometimes I don't understand why. But in my pondering I figured out my life's purpose. That purpose is to be a blessing to others. I once saw on Ohmega Watts myspace page "I've been blessed, so why not be a blessing?" Those words really struck a chord with me and it's something I operate by.
Recently I visited Panama City, Panama b/c of some friends that are living there and of course, to break & check out the scene. My homegirl Dom & Tito also worked out for me to teach a workshop. I was gonna do it for some pay, but after working some things out with her, I didn't care about getting paid. I just wanted to do what I could to connect with breakers there & give to the scene while I was around. Mainly b/c of how my friends Philly & Yahel were such a blessing to me. And of course... to BATTLE!
Traveling to Panama was different than other trips I've taken (and I travel out the country frequently). I did not know what to expect. Whenever I go to a different country I never know what to expect, but I'm usually able to imagine something in my head. This time I couldn't. Had a feeling that the plane was going to crash or something. Dark thought... but that's the feeling I had... and I still went, lol. After praying, falling asleep during both flight segments, & praying more (lol), I made it safely to Mexico, then finally in Panama.
Going thru customs & immigration in Panama was an interesting experience. That's all I will say. (SHOUTS to my travel partner Millie!) Saw the woman I sat next to on the plane in line & after a little conversation I found out she was she was one of the heads of a TV channel in Panama! I invited her to the battle "Back 2 Da Scene 2" that was happening at the end of the week. I love randomly making connections that are least expected when traveling.
Things to know about Panama:
1. HUMID
2. HOT
3. HUMID & HOT
4. HUMID & HOT AS HELL
I love hot weather... but dang! It was like 9oºF & extra humid at 10pm! Not to mention it was "WINTER" in Panama. WT*? Driving into the city I was really surprised. I did not realize how much influence the U.S had in Panama. There are so many chains of stores & gas stations from the USA there. I was hungry so we got Popeyes. I even saw a John Deere dealer! But that influence dates back to the Panama Canal & isn't all good (as is the case w/ many countries in Latin America).
Once we got to "La Casa de First Wave" I talked with "Mujeres de First Wave". I found out much about the breaking scene in Panama from them. 2 of em weren't back yet b/c they were sessioning with alot of the bboys. Apparently a lot of bboys were waiting to meet me but I missed session because the plane from Mexico was waaaaaaaay late.
Philly & Yahel are really a blessing. They provided me a place to stay & home cooked meals while in Panama. Don;t get no better than that when traveling!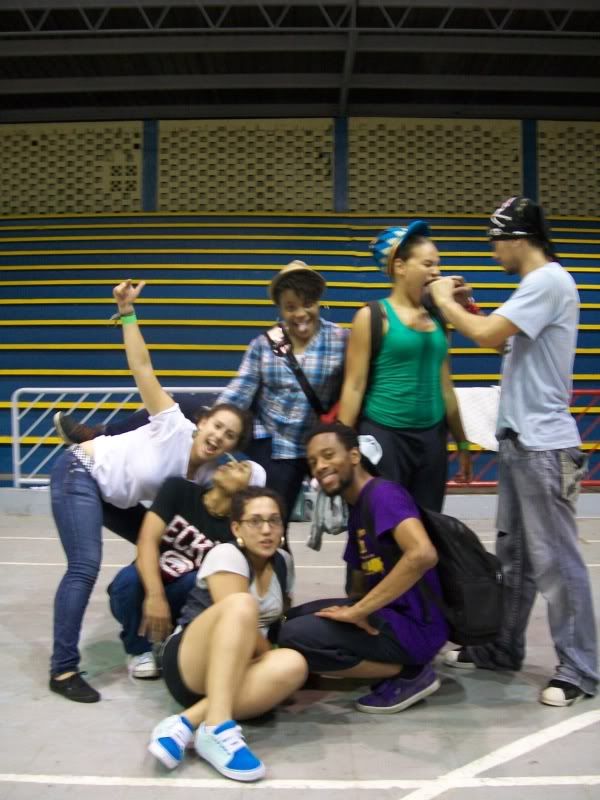 Day 1:
I went with my homegirls to Cosco Viejo along with Bboy Chosen. I took the bus for the 1st time in Panama. The public buses there are school buses from the USA and the actually yellow mini-vans. Philly said the buses were dangerous and to just take a taxi...but it was the 1st thing I did, haha. The transit buses are ones that didn't meet safety standards in the USA. "They didn't pass U.S. emissions tests & aren't safe enough for our kids, yet they sell them to Panama." - Sofia.
When put like that, it really made me think about our country & the effects of it's colonization more. Especially in Latin America. The dope thing about the buses is that they are all decked out with art (inside and out) and the inside of EVERY bus have nice sound systems. All I heard while riding the buses down there was Reggaeton (doper than the crap I usually hear), Salsa, Bachata, & the occasional Reggae.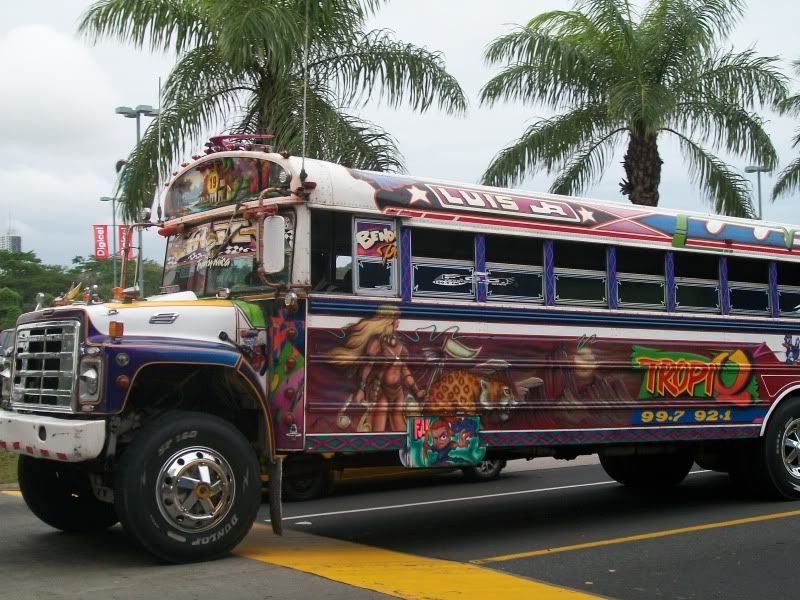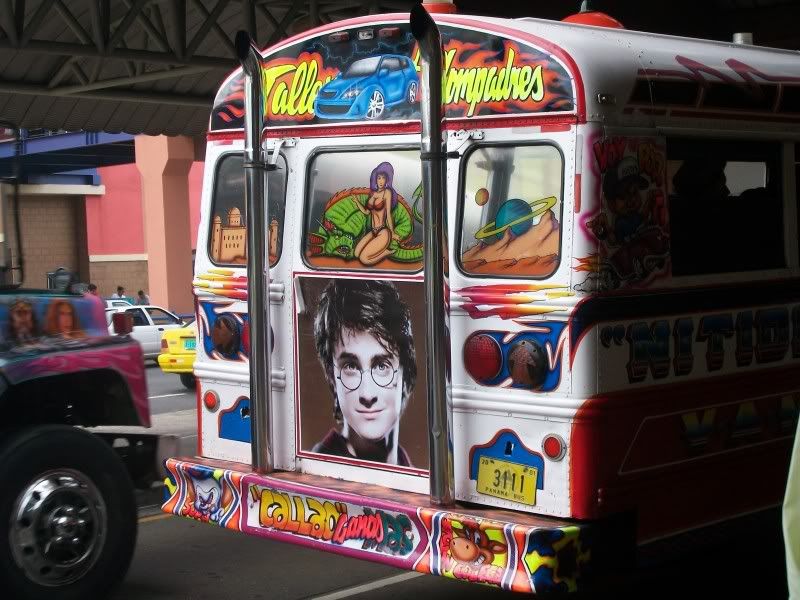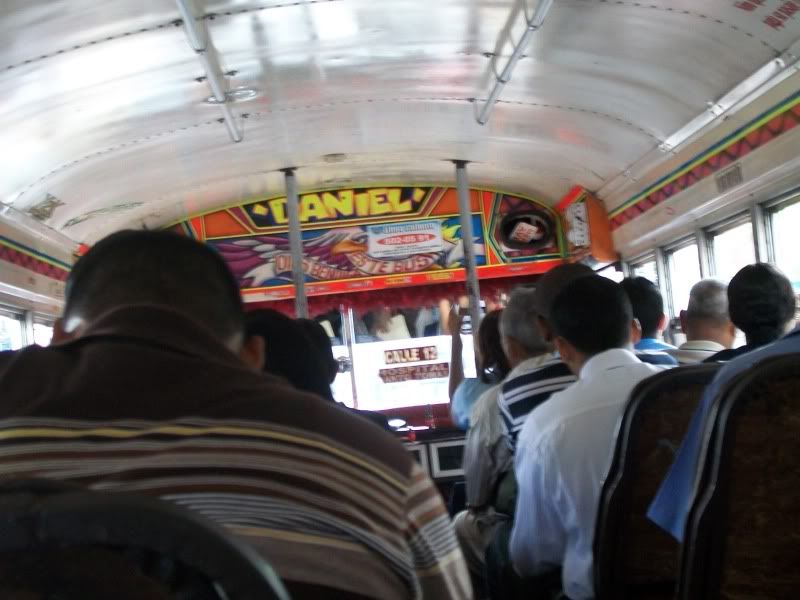 I've traveled out side the U.S seven times prior to this (5 to China/HongKong/Macau, Brazil, & Seoul) and it felt so good to be around other Black people! LOL. I love my crew Rhythm Attack (Hong Kong) & see them out there almost every year, but it feels good to travel to a country where people look like me! And the culture was a little more close to home so it was really dope.
I had the opportunity to learn more about the breaking scene in Panama from Chosen with the help of my homegirls translating for us. I am always amazed at the dedication that breakers outside the USA have to the dance. Chosen usually practices by himself at 1am because he has school. Mas y mas Respecto hombre!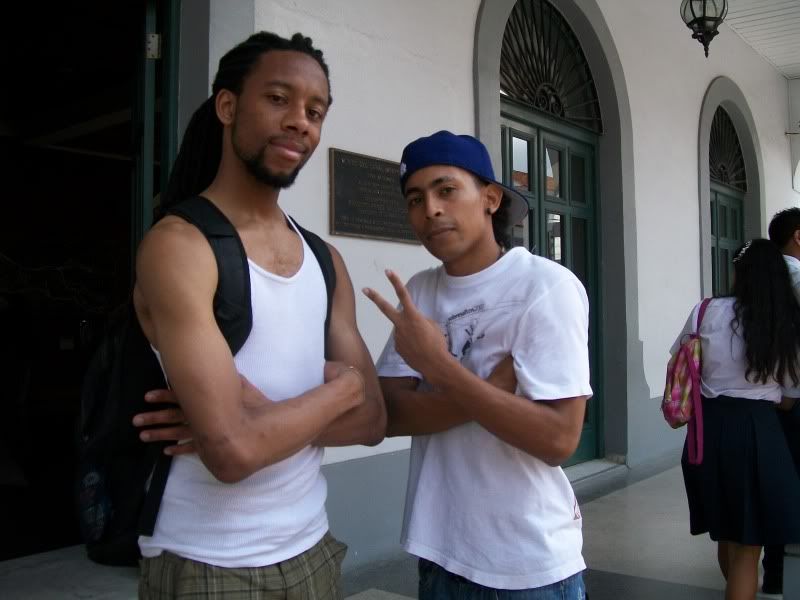 We all ended up going to the Panama Museum for the Panama Canal in Casco Viejo. Basically learned more about the history of exploitation, racism, exclusion, and development with the tidbits they sprinkled in with maps of slave trade routes as relates to Panama from what we were seeing and reading.
Whenever I travel out the USA I am always with other people who have been affected by American culture who are not American (Bboys/Bgirls, dancers). I am curious to find out about breakers' reception of American culture via Hip Hop vs everyday life. The thing that sparked that thought was building across from the museum. It had been bombed by the United States in their "search" for Noriega... which was actually believed partly to be an excuse for the U.S to test weapons for the Gulf War. http://en.wikipedia.org/wiki/United_States_invasion_of_Panama
*More on that later
Me and Sofia sessioned that night outside at Parque de Via Argentina. I got to meet Pollo, Sistema, Damon, and Kevin. Was nice to meet other bboys and session. Sofia gave me more of a run down of the Panama scene and the crews that were there. Definitely got me excited to meet more folks. IT WAS HOT AS HELL OUTSIDE.
I will finish more later.... this is getting long.